[Above] Linda today (top), and after her Io volcanism discovery posing in front of a model of the Voyager Spacecraft at Jet Proplsion Laboratory.
Courtesy: NASA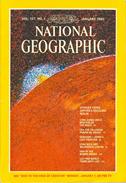 ©2010 National Geographic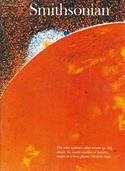 *©Smithsonian Magazine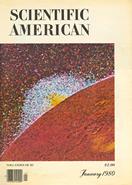 © 2010 Scientific American
[Above] Linda's discovery of the volcanic activity on Io was carried via 3 simultaneous cover stories in Smithsonian, National Geogaphic, and Scientific American as noted by Time Magazine in their January 21, 1980 issue.
*Smithsonian Magazine. Reprinted with permission from Smithsonian Enterprises. All rights reserved.
Reproduction in any medium is strictly prohibited without permission from Smithsonian Institution. Such permission may be requested from Smithsonian Magazine.
Scientific American. Reproduced with permission. Copyright © 2010 Scientific American, a division of Nature America, Inc. All rights reserved.
Linda Morabito began her undergraduate work in Astronomy at the University of Southern California, with an emphasis on extragalactic astronomy and cosmology. She joined Jet Propulsion Laboratory in 1973 as a temporary summer employee and then again in 1974 after securing her undergraduate degree in Astronomy. Linda worked as a senior engineer in the Outer Planet and Navigation Section at Jet Propulsion Laboratory from 1974 to 1981. She was a member of NASA's Viking Flight Team and was a guest investigator on the Viking Extended Mission to Mars. In 1979, she discovered the currently active extraterrestrial volcanism on Jupiter's moon Io. She has served on several state-of-the-art planetary and extragalactic education programs for student researchers in association with NASA spacecraft missions. She is currently an Associate Professor of Astronomy at Victor Valley College in Victorville, CA where she is conducting research on a new cosmological model of an accretion universe, and on the historical perception of this age of science. Here is your opportunity to read Linda's latest research paper.
Linda Morabito: Author, Astronomer, Discoverer, Researcher, Professor, and Speaker
On March 9, 1979, a young female astronomer, Linda Morabito sat at her computer at Jet Propulsion Laboratory, and noticed a strange object off the edge of a moon of the planet Jupiter, that at first appeared to be another world. This historic moment was the culmination of her career that had been dedicated to a love of the universe and scientific study since Linda was old enough to think.

Education: Linda attended the University of Southern California, where she received her Bachelor of Science Degree in Astronomy, the first member of her family to ever attend a four year college. She went on to work at Jet Propulsion Laboratory the summer before receiving her degree.

Linda became Cognizant Engineer over the Optical Navigation Image Processing System as a member of the Navigation Team on the NASA Voyager Spacecraft missions to Jupiter and Saturn.



Career:

Linda discovered that the moon of Jupiter called Io was geologically alive, far more volcanically active than even the Earth.

For her work in space exploration and discovering the volcanic plume emanating from an active volcano on Io, Linda has been awarded three NASA Group Achievement Awards, for Voyager Flight Operations, Navigation Team; Voyager Mission Operations System Design, Ground Data Systems Development; Voyager Mission Design, Ephemeris Development, and NASA's Certificate of Appreciation for the work which led to her discovery.




Recognition:

Linda has been named by Aviation Week and Space Technology as one of the individuals deserving recognition for the advancement of aerospace.

The International Astronomical Union has approved the naming of Asteroid 3106 for her, discovered by E. Bowell, in honor of her discovery.
Planetary Society:

After raising her family, Linda returned to the world of space exploration as Manager of Program Development at The Planetary Society.

Over her seven years at The Planetary Society, Linda selected an international group of students who made the discovery of a group of dark boulders on white sandy terrain at a mid-latitude on Mars, whose presence there cannot be explained by planetary scientists.
Teaching:

Linda has become an Associate Professor of Astronomy at Victor Valley College in Victorville, CA, where she has been recently named as one of the most inspirational women in the region for her teaching.

She has a history of making inspirational science presentations about her discovery and the universe at National Science Teacher Association meetings, teacher science training conferences throughout the country, and at Jet Propulsion Laboratory.




Family:

Linda is married to astronomer David Meyer, who retired to teach Astronomy after 21 years as an Air Force Pilot. Linda's son Ryan and daughter-in-law Michelle have two beautiful children, Dave and Linda's grandchildren, Robert 15, and Nathan 7.


Parallel Universes:

In 2004, Linda began a personal journey as profound and compelling as her lifelong journey through space.

Linda began to remember the events of childhood trauma that would bring into question everything she had ever known and believed. Parallel Universes, a Memoir from the Edges of Space and Time has been borne from this journey. This memoir is a candid portrait of pain, tragedy, and the human spirit as uplifting as the wonders of the universe on the edges of space and time. Linda has begun a speaking tour about faith and overcoming adversity on a level that few people have faced.


Linda is married to astronomer David Meyer, who retired to teach Astronomy after 21 years as an Air Force Pilot.
Photo by Hal Pollner.




| | |
| --- | --- |
| Ryan, Michelle, Robert and Nathan celebrate Nathan's birthday. | |
[Above] This issue of Science featuring a composite of images from Jupiter's realm, acquired by Voyager 1, contains the L.A. Morabito et al article announcing the discovery of the volcanic activity on Io in the science literature.
From Full Cover from Science Vol. 204 no. 4396. 1 June 1979. Reprinted with permission from AAAS [Readers may view, browse, and/or download material for temporary copying purposes only, provided that uses are for noncommercial personal purposes. Except as provided by law, this material may not be further reproduced, distributed, transmitted, modified, adapted, performed, displayed, published, or sold in whole or in part, without prior written permission from the publisher]